---
Introduction
In Canterbury it is not easy to find examples of good 'modern' architecture used in the context of private homes. The following three noteworthy examples go some way to filling this gap. NB all three are in use as private homes.
Examples
The first example (St Augustine's Road) is a house that replaced an earlier property built in 1911 but destroyed by enemy action in June 1942. The new house, built in 1951, was designed in 1946 by Anthony Swaine, a determined conservationist. When he died in 2013, Swaine, aged 99 years, was the oldest practising architect in Britain. With agreement form the War Damage Commission the new house was set back, in order to avoid building on the unstable bomb crater. The house, whilst hardly 'modern', was individualistic, and did represent an attempt to avoid slavishly copying its predecessor, or indeed the work of the past. It shows several 'Arts and Crafts' features, including long and steep sloping roof, prominent dormer windows, interesting window shapes, and tall chimney stacks.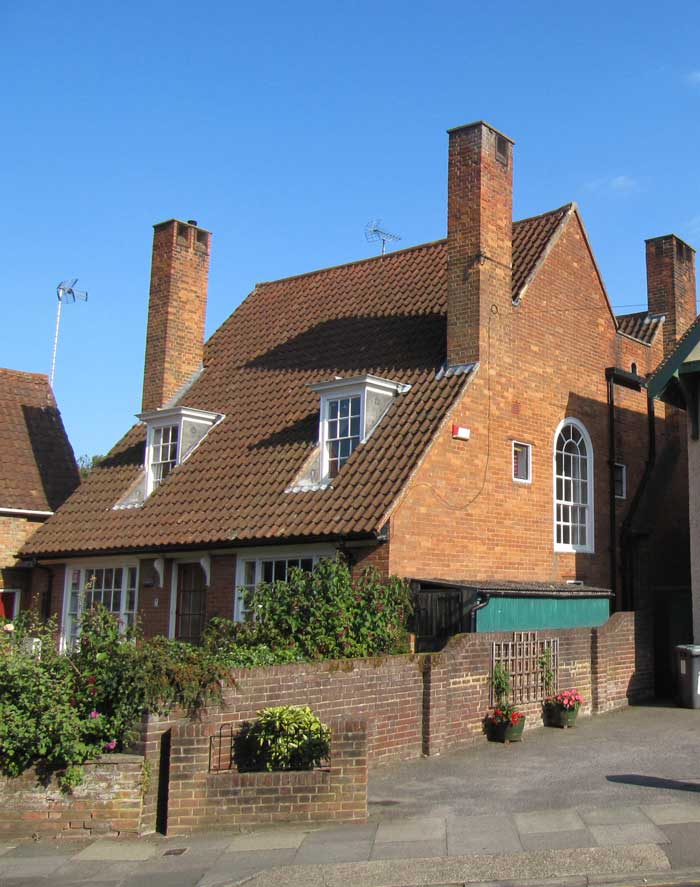 Our second example shows the only modern Canterbury home that has achieved listed status. Built in 1966 in Leycroft Close for an academic working in University of Kent, the listing (Grade II) was awarded in 2010. The street facade, showing a bold mix of brown Wealden brick and white painted timber; unexpected window shapes; single pitch and flat roof lines; and no immediately obvious front door, has been described as 'enigmatic'. Stated reasons for designation included architectural interest ' the house embodies many characteristics found in the best architect-designed houses of the post-war period, reflecting the spatial ingenuity and immaculate attention to detail'; also the building's quality which resulted in no changes of substance to exterior or interior during the first 44 years of its use.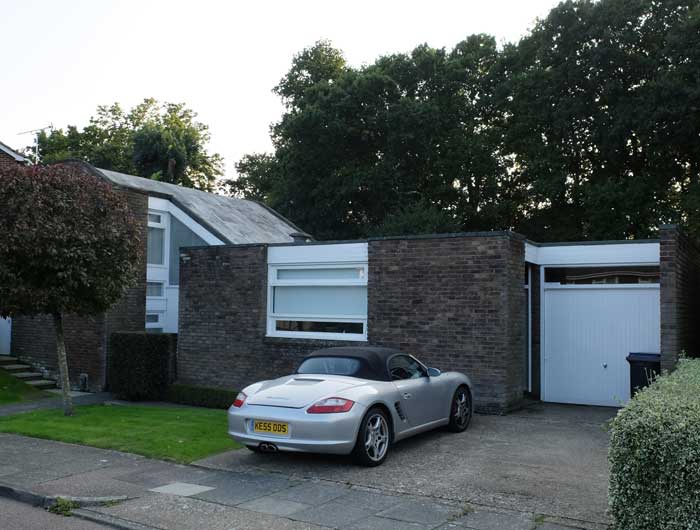 For more see entry in British Listed buildings; also article in Homes and gardens 1974.
Our third example, in Whitstable Road, shows how modernity can be integrated with an existing Victorian house. The brief for the architect, Keith Cattell of Whitstable, was 'to create a four bedroom house with a feeling of space and light'. The result was a breathtaking modern side extension that 'hides a cool contemporary interior'. The outstanding quality of these proposals, with its atrium and light airiness throughout, proved enough to convince the Planning Committee that this would be a welcome addition to the conservation area. For more see Homes and Gardens January 1974