During archaeological investigations in 1993 by Canterbury Archaeological Trust fragments of the original nave floor of Lanfranc's church of 1074 were found. In addition the bed of mortar in which the slabs of Marquise Stone were laid was still visible in places. Marquise Stone is a Jurassic limestone from quarries inland of Boulogne in France. When the nave was rebuilt between 1377 and 1405, the Norman floor slabs survived the rebuilding.
Also discovered in 1993 beneath the nave floor were pieces of opus signinum (pieces of broken tile bound in a lime mortar) possibly fragments of the original Anglo-Saxon floor of the early church building or of an earlier Romano-British building.
In 1768 Robert Mylne prepared a report for the Dean and Chapter. He noted that "the paving of the Church at the West end [of the nave] and in the North and South Cross is in a very bad order and no ways becoming such a building". He advised that the floors should be re-laid and described his choice of stone as "new Purbeck", by which he apparently meant Portland Stone.
Consequently, in early 1787, the Marquise Stone floor of the nave was repaved in slabs of Portland Stone. This stone was quarried in Dorset, probably from the Isle of Portland itself. Evidence of Portland Stone chippings were found in 1993, so the slabs were probably dressed on site.
The brass Compass Rose, a symbol of the Anglian Communion, was inserted in the nave paving in 1988. It is situated in front of the steps leading to the pulpitum and the adjacent interlocking stones have been described as Chassagne Baize. This is likely to be a mishearing of Chassagne Beige, one of several trade names for a French oolitic limestone of Middle Jurassic age.
In the early 1990s, the eighteenth century nave floor was showing considerable signs of wear. This in part was because of the increased footfall through the cathedral and because lorries had been used in 1939 to transport earth and sandbags into the cathedral nave to shore up walls and monuments as a preventative measure against bomb damage. When the 1787 slabs were lifted in 1993, they were found to vary considerably in thickness, the thinner slabs usually showing the greater damage.
The 1787 Portland Stone floor was replaced in 1993. The undamaged 1787 stone was relayed in the centre of the nave beneath the seating whilst new stone slabs of Portland Stone paved the aisles and the east and west ends of the nave. John Burton, the Surveyor of the Fabric at the time visited quarries on the Isle of Portland, Dorset, to ensure a "good match" of stone using texture, colour and wear as key properties. The stone chosen was a uniform two inches thick.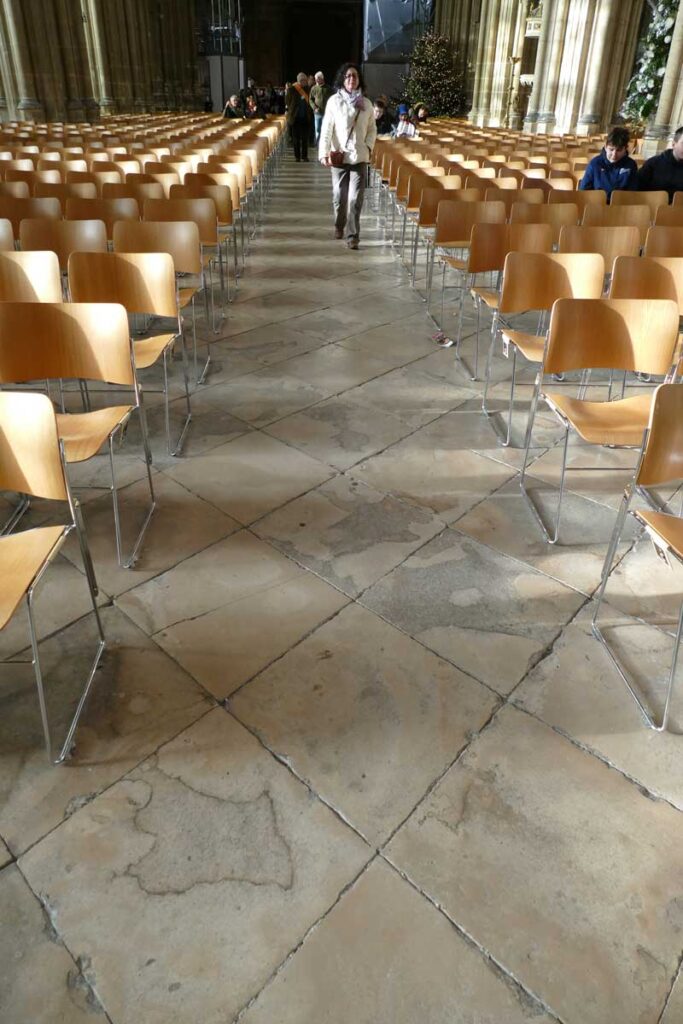 Geoff Downer 2019