Belgian-born Sculptor
Theodore Phyffers was a sculptor responsible for the statuettes which appear around the west end and south west porch of the cathedral. They were erected during the 1860s. NB Current restoration work
(May 2021) means that several of the statuettes are obscured by scaffolding and tarpaulins.
For a brief biography of Theodore Phyffers and his statuettes click here
For an overview of the location of Phyffers' statuettes click here
Click here for information on the two new Royal statues (Queen Elizabeth II and the late Prince Philip) installed in 2015.
The following plan shows areas in which the 52 Phyffers statuettes can be found. Below this, see a list of the names of individuals whose statues can be seen, and their locations. For selected individual statuettes, further details appear at the foot of this page, and corresponding images appear on the right .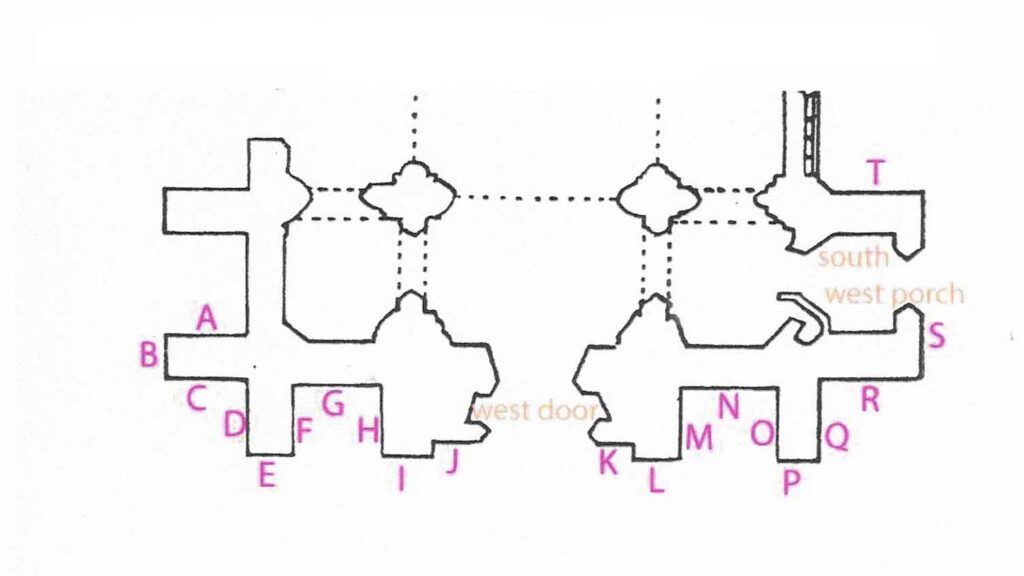 ALBERT L
ALFORD C
ALFRED T
ALPHEGE T
ANSELM S
AUGUSTINE S
BALDWIN R
BECKET R
BERTHA S
BLACK PR Q
BRADWARDINE Q
CANUTE T
CHAS I E
CHICHELE P
COURTENEY Q
CRANMER S
DUNSTAN T
EDMUND T
EDWARD II O
EDWARD III Q
EDWARD IV O
EDWARD VI I
EDW-CONF T
ELIZABETH I P
ERASMUS C
ERNULPH N
ETHELBERT S
GREGORY S
HENRY I R
HENRY II R
HENRY IV Q
HENRY V P
HENRY VI O
HENRY VII O
HENRY VIII M
HOOKER H
LANFRANC S
LANGTON R
LAUD E
MORTON O
PERCY G
RIDLEY F
SANCROFT F
STANHOPE G
STRATFORD Q
SUDBURY Q
THEODORE L
VICTORIA T
WALTER R
WARHAM O
WILLIAM I R
WILLIAM II R
STATUETTES WITH INDIVIDUAL PHOTOS (images on right)
Image 1 ALFRED – text on his book shows the title 'Leges Angliae' ie 'Laws of England'
Image 2 ALPHEGE with the axe that killed him
Image 3 ANSELM with a copy of his book 'Cur Deus Homo' ie 'Why God became man'
Images 4 & 5 AUGUSTINE treading under his foot a mask as symbol of the pagan world – text on his scroll reads 'non Angli sed Angeli' ie 'not Angles but Angels'
Image 6 BLACK PRINCE with hands unfortunately destroyed by weathering and erosion
Image 7 CANUTE stands by a chair, in the sea, with (wavy) waves to his right threatening – his shield is inscribed 'Vox Domoni semper aquas' ie 'The voice of the Lord is over the water'
Image 8 CRANMER holds a copy of his translation of the new English Bible
Image 9 DUNSTAN lacks the usual tongs – to Phyffer 'a legend more grotesque than edifying'
Image 10 EDMUND (king of East Anglia) killed by an arrow of the Danes – now patron saint of Pandemics (!)
Image 11 ELIZABETH I wearing a neck ruffle
Image 12 ERASMUS wearing his iconic 'bonnet' and reading a book
Image 13 ETHELBERT with model of the cathedral
Images 14 and 15 GREGORY with dove whispering the Word of God in his ear