---
One of the features of Canterbury is that there are a large number of historic and interesting buildings and monuments within a short walking distance of the city centre. On the map below the red dots mark the location of various buildings described on this website. We hope to replace this map with an interactive version in the near future (where clicking on the red dot will take you straight to the web page describing that building).
If you are interesting in exploring a particular part of the city or are interested in certain aspects of history such as literary or industrial heritage you may find it useful to download one of the self-guided trails provided on another page of our website.
Also last year 2021 saw the publication of a new full colour map, based on a digitised map of the city of Canterbury in 1907, with its Roman, Anglo-Saxon and medieval past overlain and important buildings picked out. This map is available to purchase on line or in various bookshops in Canterbury. The map's cover has a short introduction to the city's history, and on the reverse an illustrated and comprehensive gazetteer of Canterbury's main sites of interest.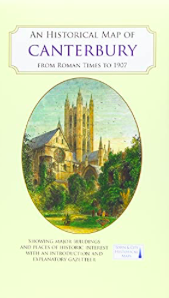 The Canterbury Archaeological Trust has also provided "Twenty Centuries at Canterbury" , which is another interactive map of the city. By clicking on one of the centuries on the left hand side of the map, you can see a list of buildings or sites where significant activity occurred during this period and access further information.
Another useful way to start to know the city is to take a guided walk through the city. A number of CHAS members are qualified green badge city guides and can make recommendations on guided tours if you plan to make a visit in the future. Just use the contact us form or you may wish to visit the Canterbury Tourist Guides website.